Digital twin in het bedrijfsleven: een hype of een blijvertje? (by Rianne Lachmeijer - Duurzaam Bedrijfsleven)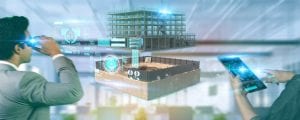 Digitaal samenwerken, onderhoud voorspellen en virtueel trainen: digital twin duikt in verschillende vormen op in het bedrijfsleven. Maar is het een hype of een blijvertje? En wat betekent het voor duurzaamheid? Een interview met Bayu Jayawardhana van de Rijksuniversiteit Groningen, die de ontwikkeling onderzoekt en Cynthia Nooijens van Croonwolter&dros, een bedrijf dat erop inzet.
Een heleboel bedrijven onderzoeken de kansen van de digital twin technologie, van Tata Steel tot Philips. Ook Croonwolter&dros onderzoekt de mogelijkheden. "Het is een superactueel onderwerp", zegt Cynthia Nooijens. Zij onderzocht als afstudeerproject de toepassingsmogelijkheid van de digital twin tijdens de exploitatiefase voor Croonwolter&dros.
For the whole article please follow this link: Duurzaam Bedrijfsleven Website